Der Bundespräsident Herr Frank-Walter Steinmeier kommt von 5, bis 10, Dezember nach China zum Besuch. Am 10, Dezember trifft Präsident Xi Jinping sich mit Herrn Steinmerier. Die USST wurde ein Artikel mit dem Thema über die Buildungskooperation vom China Daily eingeladen und der folgende Artikel zu schreiben:
University of Shanghai for Science and Technology, or USST, which is striding along the path to become a model university, is boosting educational cooperation between China and Germany.
Located in Yangpu district in Shanghai, the university, established around 110 years ago, has been promoting academic communications between the two countries over the past 30 years.
Since 1985, the university has started to engage exchange visits with German universities and it began to recruit students through jointly run projects in 1998.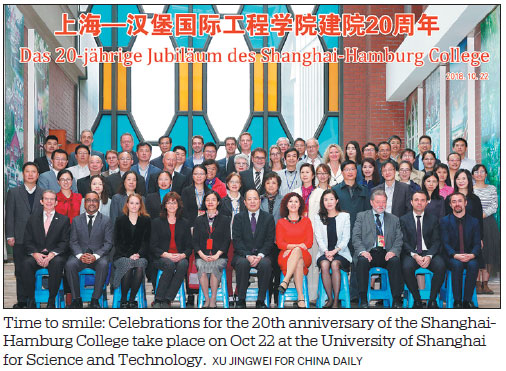 In 2004, two study programs provided by USST - electrical engineering and automation - as well as mechanical design, manufacturing and automation, were approved by the German Accreditation Agency for Study Programs in Engineering, Informatics, Natural Sciences and Mathematics, or ASIIN, a German accreditation agency for the engineering discipline.
Since then, the two majors have become the first batch of majors provided by Chinese universities with double bachelor's degrees recognized in both China and Germany.
In 2006, USST joined hands with German companies in Shanghai to establish the Company Advisory Committee. In 2014, the establishment of the Sino-German College was approved by the Chinese Ministry of Education.
In the same year, the university decided to expand its cooperation with the German academic exchange service - known in German as the Deutscher Akademischer Austauschdienst or DAAD - under a framework of a Sino-German cooperation program of action, a governmental document issued by the two countries in 2014.
DAAD, founded in Heidelberg in Germany in 1925, is a significant channel to promote the international exchange of students and researchers. It provides support to newly started projects or institutions.
USST is one of the earliest domestic universities to cooperate with DAAD. And their cooperation dates back to late 1990s, when DAAD began to contact USST and provided great help for the university to introduce advanced engineering programs into China.
In addition, the university became a bridge between DAAD and a group of Sino-German projects.
Starting in July 2006, DAAD began to fund 15 to 30 students each year from Sino-German projects to participate in summer cultural exchanges in Hamburg. In September of that year, DAAD appointed a full-time German teacher to supervise daily German language teaching and management at USST.
Since 2014, DAAD has been sponsoring the construction of an E-learning platform and Career Center Project Platform at the university. This year, the second phase of the E-learning platform was put into operation. Almost every year, representatives from DAAD's German headquarters, and its Beijing and Shanghai ofices, participate in activities held by USST.
In October, Hannelore Bossmann, head of DAAD in Beijing, participated in the launch ceremony of the Union of Sino-German Cooperation in Running Schools.
On Oct 22, the celebrations for the 20th anniversary of the Shanghai-Hamburg College took place at the USST.
Sigrid Loens, director of DAAD's overseas cultural exchange project, attended the event and said that program was a successful model project founded by DAAD abroad.
The Sino-German project was a shining example of USST in terms of global cooperation in education. Since its establishment 20 years ago, the Sino-German College has been committed to training high-level staff with a grasp of the German language, professional skills and the ability to conduct cross-cultural communications, said Cai Yonglian, vicepresident of USST.
DAAD, as a key institution to promote culture in Germany, plays an important role in the development of the Sino-German International College, Cai said.
In the future, we hope that USST and DAAD can cooperate on a broader level and create a new chapter in the history of Sino-German cultural and educational exchanges.
Xu Jingwei contributed to this story.
(China Daily 12/10/2018 page15)
Link: http://www.chinadaily.com.cn/cndy/2018-12/10/content_37378863.htm