University cooperation opens door to opportunities in a larger world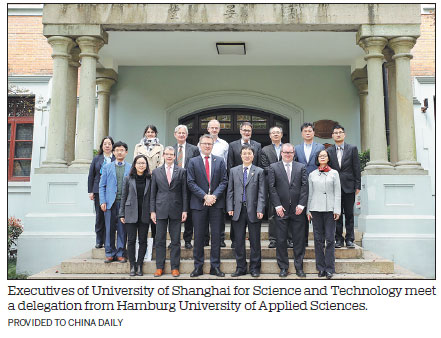 The decades-long friendship between two top institutions of education in Shanghai and Hamburg is being further strengthened on the back of new cooperation and exchanges in regions involved in the Belt and Road Initiative.
Located on the banks of Shanghai's Huangpu River, University of Shanghai for Science and Technology has been cultivating talent for 110 years. Thousands of miles away on another continent, Hamburg University of Applied Sciences in Germany has been doing the same for half a century.
The two esteemed institutions of engineering and science have been working together for over three decades, since 1985, through the Shanghai-Hamburg College academic exchange program.
Shanghai-Hamburg College is further pushing its friendship into a new stratosphere by joining the European Network for Accreditation of Engineering Education, a network that authorizes accreditation and quality assurance agencies and awards the EUR-ACE label to accredited engineering degree programs.
The accreditation means graduates from the joint programs offered by USST and Hamburg University of Applied Sciences in mechanical and electrical engineering will be qualified to work in economies involved in the BRI directly.
USST is rooted in China and has worked ceaselessly in opening-up and promoting international cooperation in academia, said Ding Xiaodong, president of USST. He added the university aims to improve its professional education through multiple certification systems, to cultivate talent with an international vision and the ability to communicate across different cultures.
The university needs to enhance international cooperation and communications to raise the level of opening-up in education, he said. It also needs to serve the Belt and Road Initiative, work with the top institutions in the world and achieve mutual development.
Just as it says in USST's motto, Every ship that sails to Shanghai must pass within full view of the college, compelling any thoughtful student on such a campus to live in a larger world. Now the students of USST can have easier access to a bigger and wider world to pursue their career in mechanical and electric engineering.
USST places a high value on international accreditation. Since 2004, electrical engineering and mechanical engineering were accredited by ASIIN, the German accreditation agency for study programs in engineering, informatics, natural sciences and mathematics, making USST the first Asian university to gain such accreditation. Another three majors passed ASIIN accreditation in 2010. And in 2011 analytical instruments, measurement and sensor technology, a master's program with Germany's HS Coburg, also gained certification from ASIIN.
To gain international accreditation is vital in bringing a local institution to a higher level, said Huang Daren, the former president of Sun Yat-sen University. I suggest that top universities in China focus on international accreditation. To become a world-class university, our courses first need to gain approval from international peers.
Academic cooperation and cultural exchange have always been an important element of the BRI. Pascal Abb, a senior researcher at the Austrian Study Center for Peace and Conflict Resolution, said that the initiative does not just benefit China, Germany and other European countries, but that it will also bring vitality for development in the related economies.
Xu Jingwei contributed to the story
Links:https://www.chinadaily.com.cn/a/201904/27/WS5cc3d4f8a3104842260b8b8c.html